Chili originated in Southern Texas
This is a great Chili Con Carne recipe. To ensure the best chile flavor, toast whole dried chiles and grind them in a mini-chopper or spice-dedicated coffee grinder, all of which takes only ten minutes. Select dried chiles that are moist and pliant, like dried fruit. Count on trimming one-half to a full pound of waste from your chuck roast, so start with a four-pound roast to end up with three to three-and-a-half pounds of beef cubes. For hotter chili, boost the heat with a pinch of cayenne, a dash of hot pepper sauce, or crumbled pequin chiles near the end of cooking. Serve the chili with any of the following side dishes: warm pinto or kidney beans, corn bread or chips, corn tortillas or tamales, rice, biscuits, or just plain crackers, and top with any of the following garnishes: chopped fresh cilantro leaves, minced white onion, diced avocado, shredded cheddar or jack cheese, or sour cream.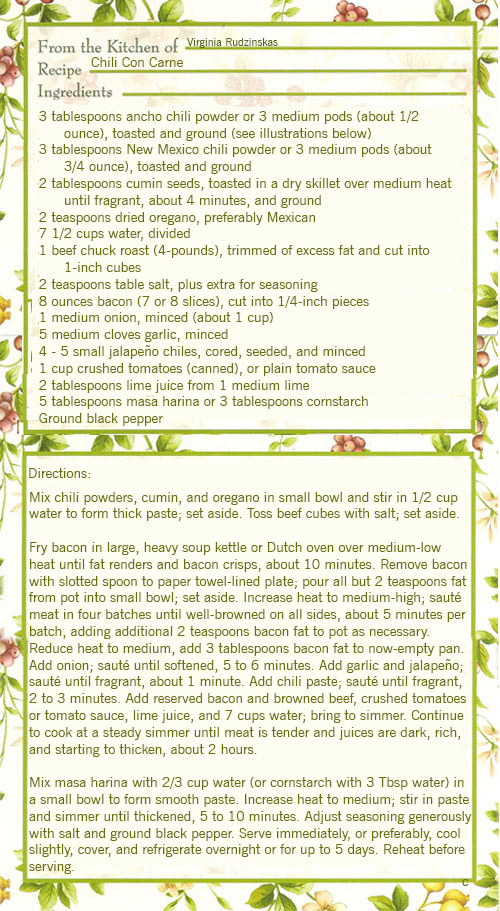 Texas Chili is the best! But, when making it, there are some things to think about. Chuck-eye roasts are notoriously fatty, so don't be surprised if you trim off 1 to 1 1/2 pounds of fat. Avoid precut beef labeled "beef for stew"it could be beef round or boneless shoulder roast, which will turn out dry and tough. For a milder chili, use the lower amount of chipotle; for a spicy chili, use the upper amount of chipotle. Serve with chopped fresh cilantro, minced onion, diced avocado, shredded cheddar or jack cheese, and sour cream.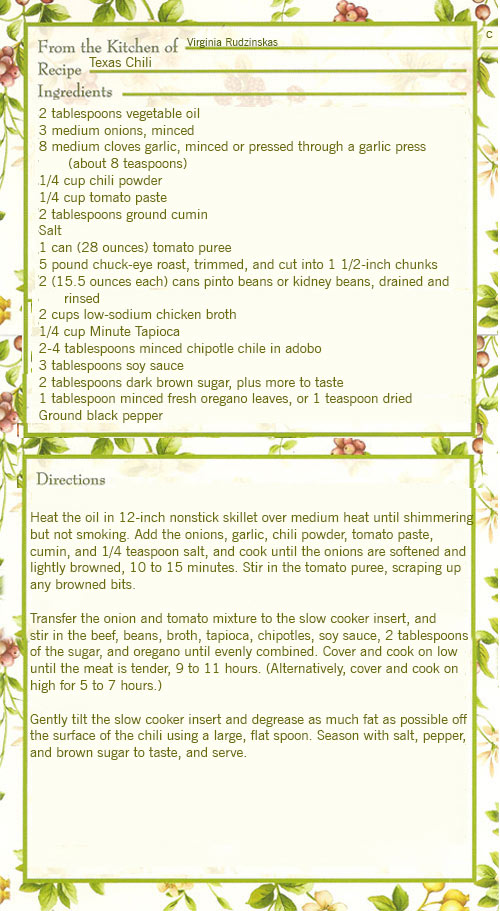 White Chicken Chili is a variation on the traditional tomato based chili.