Fast, Fast, Fast!
This is a very tasty and easy microwave dish to make. It's a tasty Fish Fillet in Lemon Rice.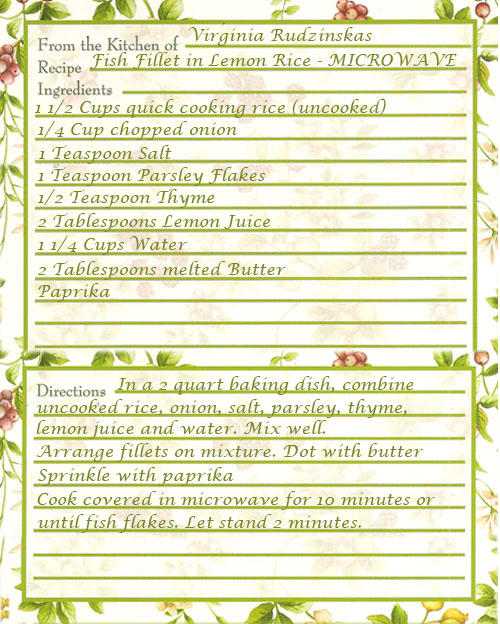 Don't shy away from this recipe because of the cucumber. It's delicious! Fish Fillet in Cucumber Sauce. It's awesome! (Don't leave out the Anchovy Paste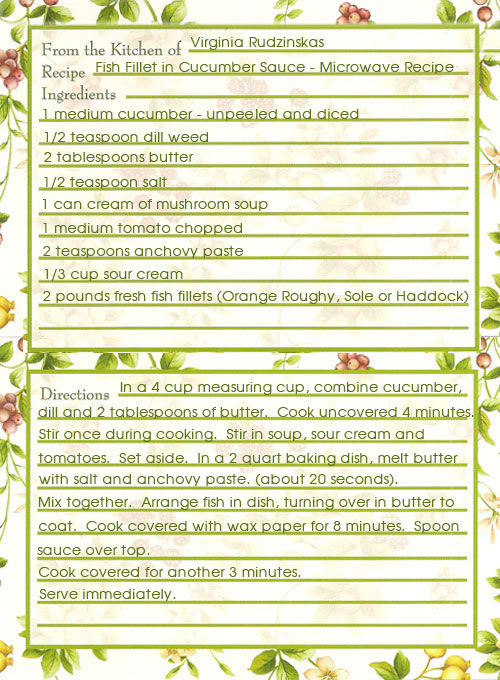 This Twice Baked Stuffed Potatoes recipe is easy. Although the skin on the microwaved potatoes are flabby, this isn't much of an issue, as the potato shells are usually broiled to crisp them before stuffing. The microwave cuts about 50 minutes off the prep time needed for conventionally baked potatoes. In the twice-baked potato recipe, an extra step — scooping out the pulp of the baked potatoes and drying the emptied skins in the oven — made for a crisp shell to house your chosen fillings. Adding just a few tablespoons of butter to the fillings I chose kept their textures hearty and enhanced their flavor. Combined with sour cream and half-and-half, the mixture gained a luxurious texture without being stifled by grease. Finally, the cheese (essential to any twice-baked potato recipe) worked best in two ways: mixed into the filling and sprinkled on top. Broiling the potatoes made for a grand, golden finale.