You need a Pressure Cooker for these recipes.
A dish that typically requires near-constant stirring, risotto is probably low on most lists of side dish options. But not for home cooks with a pressure cooker. After sautéing aromatics and toasting the rice for a few minutes, stir in wine, then broth. Then, instead of stirring for up to 30 minutes, you just lock on the lid and let the magic happen. Six minutes under pressure delivers risotto that is almost done. From that point, you simmer the risotto for a few minutes, stirring for just 6 minutes, until it was perfectly creamy. A little Parmesan was the only finishing touch needed for this simple recipe, although you may also garnish with parsley and shaved Parmesan, if desired.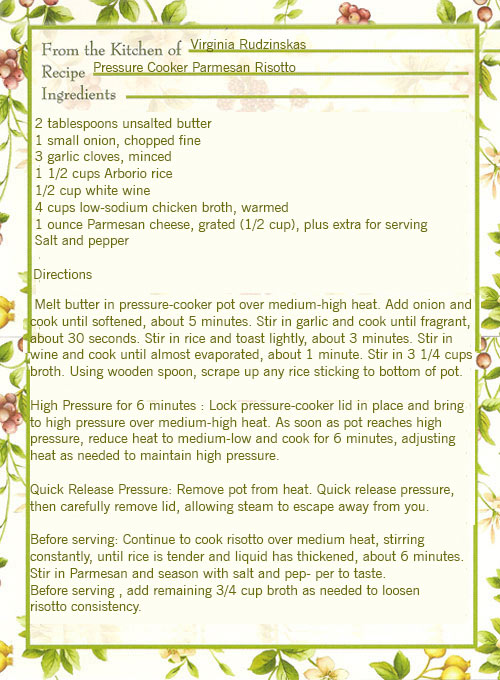 Pressure cooker easy Ziti with Sausage and Peppers recipe. For a one-pot pasta dinner that is streamlined without sacrificing flavor,start by browning Italian sausage, onion, and green bell pepper just until the sausage is no longer pink. Then stir in tomato sauce, water, and our pasta. Using jarred sauce kept things simple, while a tubular pasta like ziti proved to be the best match for the pressure cooker— strand pasta turns into unappealing clumps of noodles when cooked under pressure. Cooking the ziti for 5 minutes was the best approach to ensure it wasn't accidentally overcooked. (a likely problem when cooking pasta under pressure since you can't check for doneness along the way). After 5 minutes, you quick release the pressure and let it all simmer for a few minutes to finish cooking the pasta through and concentrate the sauce's flavors. A sprinkling of basil at the end made the right fresh finish for a saucy, meaty ziti dinner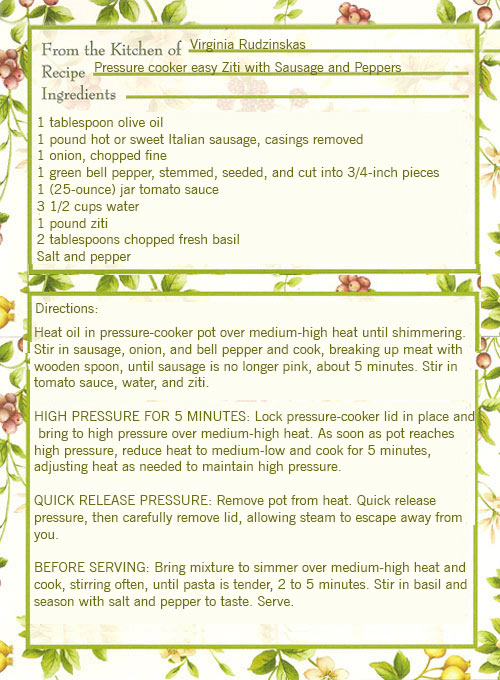 For the Chicken and Rice recipe, I used bone-in chicken breasts rather than boneless for better flavor and meat that stayed moist. Browning the breasts before cooking them under pressure discarded most of the fat before cooking. I decreased the normal amount of liquid to rice to account for the moisture released by the chicken and carrots that couldn't evaporate. Stirring the rice made the dish gluey, so simply fluff it with a fork when incorporating the peas, lemon juice, and parsley.